With a mortality rate exceeding 10%1 and a number of patients affected that increases by +2%1 each year, kidney failure is a serious pathology that can be controlled. As a cause of major metabolic and nutritional changes, kidney failure can lead to dialysis treatment. Nutrient supplementation then becomes essential to compensate for the loss of calories, minerals, vitamins and proteins.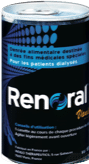 To offset these losses, the Paris-based company INDIGO Therapeutics (for INnovative DIGestive Options) has just announced the launch of RENORAL®, a DADFMS* solution for patients with renal insufficiency.
Positioned on « microbiotherapy » (science of the microbiota), this drink based on native proteins will be ready to use.
The company's ambitions in the short to medium term is to develop solutions to act on:
2018: intradyaltic compensation of amino acid losses with RENORAL®
2019: Inflammatory bowel diseases and major psychiatric disorders
2020: weight management and metabolic disorders, chronic kidney disease
All these solutions have as their common base the intestinal microbiota and probiotics.
* Food for special medical purposes
Inserm, Annual Report 2015 of the REIN network