You discovered our selection of anti-fall products during our first fall meeting… Here is the second: anti-stress products. With increasingly stressful lives, consumers are turning to nutraceutical solutions. As proof, the sleep-stress segment has been growing for several years. It is the leading segment in pharmaceuticals in France, with double-digit growth between 2016 and 2017 (+22.6%). Discover the products that caught our attention this fall.
Naturality is the main word
For several years now, natural products have been increasingly appreciated by consumers. Plants play a key role in food supplements: 64% of food supplements sold in France contain at least one plant.  The Laboratories have understood this well and are continuing to build on this momentum in the anti-stress products segment, with in particular:
– Goodbye stress by Carrare
– Phyto stress by Go Vital (Urgo)
– Lero DNV by Léro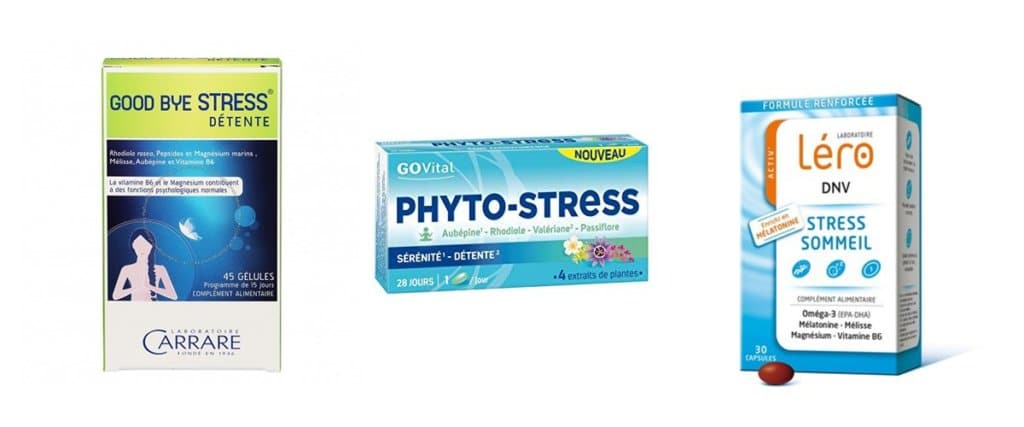 These three anti-stress products are based on herbal formulas with recognized benefits (Rhodiola, Melissa, Hawthorn). A few additional minerals, such as magnesium or zinc, consolidate the formulas with authorized claims.
Galenic first and foremost
Forte Pharma offers a galenic spray for an immediate effect. This is enough to reassure consumers about the effectiveness of the product in the event of a peak of stress. The composition of this anti-stress product remains simple, with poppy and rhodiola for plants and vitamin B3 for minerals.
Probiotics are still here
Always at the top, probiotics continue in all segments. They have been here for 2 years in Bioprotus stress by Laboratoires Carrare, a combination of two strains of ferments and magnesium. The presence of magnesium allows the laboratory to claim stress, but the focus is on probiotics, both in communication and in the name of the product. A product that complements « Goodbye stress » from the same Laboratories.
Simplicity and efficiency are the key words of this promise to be followed… like those of our next meetings in the fall!