Distributed exclusively in pharmacies, the range of food supplements from the Leurquin-Mediolanum laboratory is short but attractive! We liked these 3 products thanks to the quality of their formulation.
3 food supplements and quality nutraceutical ingredients
This range is composed of 3 products available in France:
Illumina: Memory and cognitive functions.
Positioned on the prevention of brain aging, it is formulated with: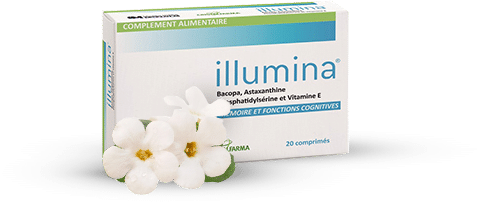 Bacopa
Haematococcus pluvialis containing astaxanthin
Phosphatidylserine
And vitamin E.
While Bacopa and phosphatidylserine are relatively common in the world of brain health, communicating on astaxanthin is less common. Illumina also benefits from a multilayer tablet galenic for a differentiated release of the active ingredients. The objective: a better bioavailability of each compound.
Ristabil: Fatigue, Exhaustion, Lack of appetite.
Based on royal jelly, eleutherococcus extract, blueberry, rosehip and vitamins of the B group, Ristabil is positioned on the fight against physical and mental fatigue. This approach to fatigue is relatively innovative. It is intended for the whole family (children, adults and seniors) and comes in the form of a 10 ml bottle-shot to dilute.
Relaxcol: Bloating and abdominal tension
This food supplement combines the intestinal regulating properties of « carminative » plants (include: purifying. These are fennel, anise and caraway in the case of Relaxcol) to those adsorbing carob seed meal and intestinal relaxants of coriander. This product also benefits from a clinical study.
Trendy promises, treated in an innovative way
Why did this range seduce us? Well because it positions its products on the most trendy segments of the food supplement market (cognition, vitality and digestion) but with a different approach. For example: abdominal tension for digestion, in the IBD movement. We also welcome the risks involved in the choice of ingredients and galenics, particularly for the differentiated-release tablet.
Just as we told you about Zenytud some time ago, the innovative formulas: we love it!
The Leurquin-Mediolanum Laboratory
Born in Italy in 1972, this pharmaceutical company is relatively unknown in France, where it has nevertheless begun to establish itself (€2.7 million in 2017 in France). With 650 employees, it is interested in many therapeutic areas (vascular, cardiometabolic, respiratory and anti-infectious) and actively works on the development of food supplements and OTC drugs.